Results For: ''
18 Hole Golf Course
Nicolet Country Club, Inc. offers a short, but very well kept layout to our members and guests.
The front nine offers very generous fairways, few bunkers, and small greens. The back nine offers tight fairways carved out through the woods, more bunkers, various dogleg holes, and larger greens. You will feel like you are playing two separate courses. Both nines are challenging and beautiful.
For a tee time and hours please call our pro shop at 715-674-4780.
Scorecard & Hole Information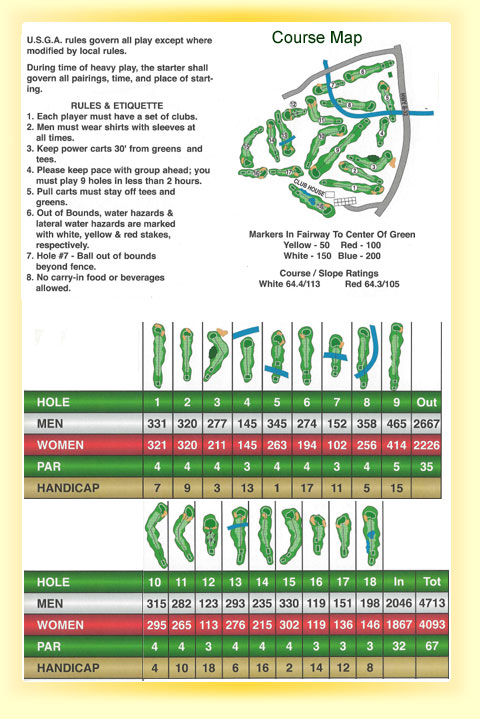 Download Nicolet Country Club 's Official Score Card
Nicolet Country Club is located approximately 1 mile west of Laona on Hwy 8.
The facility is reached by taking Fairway Court south at the Laona water tower.
From Milwaukee Area: take Hwy. 43 North to Green Bay, Hwy. 172 West to, Hwy. 41 North to, Hwy. 32 North/West to Laona.
From Green Bay Area: take Hwy. 32 North about. 100 miles to Laona
From Stevens Point Area: take Hwy. 51 North to Merrill, Hwy. 64 East to Antigo, Hwy. 45 North to Monico, Hwy. 8 East through Crandon and toLaona.
From Appleton Area: take Hwy. 47 North to Cecil, Cty R to Suring, Hwy. 32 North/West to Laona.
We offer plenty of services to meet your needs and make sure you enjoy your day at Nicolet Country Club.  You'll enjoy our facility that includes an 18-hole golf course, driving range, practice green, putting green and fully stocked pro shop.
Click on any of the services listed below to find out more information.
Nicolet Country Club is one of the best-kept courses in Northeastern Wisconsin. We have a unique course layout covering approximately 4,800 yards. Our two nines are like playing two separate courses. The front nine is more-or-less wide open, but requires good iron play to hit small greens. The back nine is a par 32 layout that has several dog-legs that place a premium on accurate tee shots. The course is perfect for all skill levels. Each nine is played in 2 hours or less. New and improved tee boxes have been put in throughout the course.
You'll enjoy our facility that includes an 18-hole golf course, driving range, practice green, putting green and fully stocked golf shop. If you have any questions, please call us at 715-674-4780 or email us at ncc224@centurytel.net
The Safer at Home order has been lifted, but we've enacted some social distancing guidelines for the safety of our guests and staff. 
We are limiting the number of people in the pro-shop to 3 at one time, and the bar area to 16 at a time.
Golf Specials
"Couple's Golf and Hamburger Deal":  Monday through Friday, couples can get 9 holes of golf including power cart.  After your round of golf, each get a hamburger! All for only $56 per couple. (Sorry . . . Not available for Tuesday morning ladies league or Thursday night men's league play)
Couples Scramble every Sunday. Arrive at 3:30 p.m., teeing off back nine at 4 p.m. Lots of fun – open to all ages.
Twilight Rates begin daily at 3:00
Every Wednesday throughout the summer we offer $1/Hole for golf (cart not included).
The Driving Range is open! Tokens are available for purchase in the Pro Shop.  And take a minute to try out the putting and chipping greens.  A few minutes a day will improve that short game!
USGA changes to the rules of golf summarized here.
World Handicap System to be adopted in 2020. Read about it here.
Adopt-A-Barrel
Every year we offer the opportunity to Adopt-A-Barrel and plant flowers for the season. It's one of the ways our golfers can work together to keep our course beautiful. The barrels are planted for this year, so take a minute from your game to admire the work done by volunteers who all have distinctly different styles.
Sponsor-A-Bench
NCC has new benches going in on the golf course, with plaques and inscriptions included. We have some great sponsors thus far, but there are still some benches available.  Maybe you'd like to memorialize where you got that hole-in-one! If interested in sponsoring a bench please call us at 715-674-4780.
Stay Connected
Free Wifi at the Clubhouse
Reciprocal Program
Pay reduced rates at many Wisconsin courses just for being a member of Nicolet Country Club. Click here 2020-Reciprocal-Program for more details and a list of the participating courses.
Upper Peninsula Golf Association
The U.P. Golf Association has many courses to play at a discounted price. Pricing will depend on each golf course as they make their own rates.
2020 Events
(Golf course and clubhouse closed to the public)
June  9        Annual Meeting – postponed due to COVID19 restrictions
June 13       Quarterback Club
July 22        Hookers & Slicers
August 1      Crandon Hacker
August 22    NCC Annual Fundraiser
August 29    1st Round Club Tournament
August 30    2nd Round Club Tournament
Sept 14          Veteran's Golf Outing
Sept 19          Miller's Tin Cup
Sept 26         Forest County Shank
All Year:  "Dollar a Hole" every Wednesday!
Fall Rates* . . . $15.00  for 9 holes 
                             $25.00  for 18 holes 
*fall rates begin September 3
2019 Calendar of Events
(Golf Course and Clubhouse closed to the public)
Laona Quarterback Club Tournament, Saturday, June 8th
Nicolet CC Stockholders Annual Meeting, Tuesday, June 11th, 7 pm
Ladies Golf Clinic, Sunday, June 16th
Forest County Shank, Friday, June 21st
Golf Clinic, Sunday June 30th (golf course open)
Hookers & Slicers Golf Outing, Wednesday, July 24th
Mole Lake Veterans, Saturday, July 27th
Crandon Hackers Golf Tournament, Saturday, August 3rd
Potowatomi Carter Casino Hotel Charity Outing, Friday, August 9th
NCC Club Championship, August 17 and 18
NCC Annual Fundraiser Golf Scramble, Saturday, August 24th
Tavern League Golf Outing, Monday, September 9th
Veterans Annual Golf Outing, Monday, Sept. 16th
Miller's Tin Cup, Saturday, Sept. 21st